Cape Horn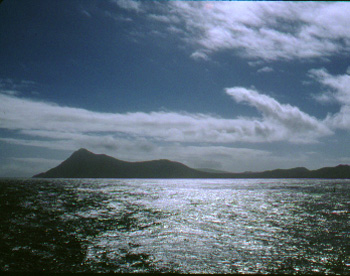 Sunny Cape Horn, February 2000 © Robert L. Webb
Now we are ready to head for the Horn
Way, hey, roll and go;
Our boots and our clothes they are all in the pawn
To me, rollickin' randy-dandy O!
The Dutch honored the place for their countrymen early in the 17th Century, while seeking an unregulated route to the riches of the East Indies. An Antwerp-born merchant named Isaac LeMaire found himself blocked in every effort to trade in the Pacific, both by Spanish control of Magellan Strait, and by the Dutch East India Company's legalized trade monopoly. He decided to investigate an uncharted route to the Pacific Ocean that was supposed to lie to the south of Magellan Strait.
He sent Willem Cornelis Schouten and his brother, both sea captains, and he sent his own son Jacques as his personal representative. The Schoutens' ship set out from Hoorn, a seaport on the Zuider Zee, and sailed to the southward and then to the west'ard until, in January 1616, they sighted barren islands and a land falling away in black cliffs and snowy peaks to the north and westward. Here the sea-color changed, and the swell increased, leaving no doubt that they had passed into the Pacific.
To those dark rocks at the conjunction of the two oceans they gave the name Hoorn, to celebrate the town from whence they had come.
After the Schoutens, those sometimes treacherous seas filled gradually with merchantmen, whaleships and men-of-war until, by 1850, the Cape Horn road had become the principal route of commerce between old-world seaports of the Atlantic and the "new" world along the Pacific Rim. That inhospitable place, the Cabo de Hornos of modern Chilean and Argentinian maps, the jagged punctuation stopping South America, below which all is frozen, eventually earned the respectful nickname "Cape Stiff."
Nineteenth-century mariners well knew the way. Their preparations began as their ships approached the Argentine coast. There, the much-patched fairweather sails were replaced on the yards by stiff new ones made of "OO"-gauge canvas, all the better to withstand the blow surely to come. Tarpaulins were stretched over hatch covers as waterproofing, and some crews bolted massive timbers over the hatches, to keep them from being stove-in when the great Cape Horn rollers would come aboard.
Steady gales from the southwest thwarted their desire to reach the Pacific Ocean with their cargoes and lives intact. These westerlies pinioned the sails against the masts, threatening to back a vessel all the way to the Falkland Islands. Some westbound crews never got around at all, but were compelled to turn around and run their easting down, circumnavigating the Southern Hemisphere until they reached the Pacific from the west. Any crew attempting Cape Horn had to thread carefully between the dangerous lee shore of South America and the Antarctic ice, particularly in June, July and August, at the height of the southern winter.
Sailing ships continued around Cape Horn, even after 1914 when the Panama Canal was opened. Any paying cargo would do, and so the shantymen sang, "We're bound for Yokohama with a load of grand pianners!" The American ship Eric the Red, for example, cleared out for Japan in 1879 with a cargo consisting of 49,750 cases of "case oil" (kerosene), coal, fire brick, pitch, paint, printing ink, books, plaster, acids, stoveware, oars, clocks, glassware, an organ, and two iron safes!
These vessels did not come home empty, but chartered cargoes for return to Europe and the eastern seaboard of North America—chrome ore from New Caledonia, coal from Australia, nitrates from Chile, guano from Peru, grain from California, sugar and whale oil from Hawai'i, lumber and tinned salmon from Washington and British Columbia.
Thousands of such passages left us an important legacy in song and story, and we celebrate the fraternity of "Cape Horners" today at sea-music festivals, concerts, and in educational programs around the world. Through shanties and sailors' songs, we can live in our imagination some part of what we can no longer experience for ourselves—a romp past old "Cape Stiff" in a windship running free.
Excerpted from Robert Lloyd Webb, The Cape Horn Road
© Robert Lloyd Webb 1998, 2001
Around the United States, you can visit aboard merchant ships that once rounded the Horn (and there are others in Europe and elsewhere):
Balclutha, 3-masted iron (steel) ship,
Connell & Co., Glasgow, 1886
San Francisco Maritime National Historical Park
http://www.nps.gov/safr/historyculture/balclutha.htm

Charles W. Morgan, 3-masted wood ship (now bark)
J. & Z. Hillman, New Bedford, 1841
Mystic Seaport (Connecticut)
http://www.mysticseaport.org/index.cfm?fuseaction=home.viewPage&page_id=B3E63C64-B3CA-45AE-A83D72C303A9C6BF

Elissa, 3-masted iron bark
Alexander Hall & Co., Aberdeen, Scotland, 1877
Texas Seaport Museum (Galveston)
The Elissa does not seem to have rounded Cape Horn, but hundreds like her, built in Scottish shipyards during the 1870s -'90s, ploughed the southern seas on their comings and goings between the Pacific and Atlantic.
http://www.tsm-elissa.org

Falls of Clyde, 4-masted iron ship


Russell & Co., Port Glasgow, Scotland, 1878

Hawaii Maritime Center (Honolulu)

The Board of Directors of the Bishop Museum in Honolulu on September 29, 2008 transferred ownership of this vessel to the organization Friends of the

Falls of Clyde

. Her preservation is vitally important to maritime history. She circumnavigated the globe six times, rounded Cape Horn twelve times, crossed the Pacific eleven times including passages to India. In 1899 she was purchased by the Matson interests in the Pacific, and became one of very few sailing ships modified for the transportation of oil in on-board tanks.

https://sites.google.com/a/friendsoffallsofclyde.org/test3/

Joseph Conrad (ex-Georg Stage)3-masted iron ship.

Burmeister & Wain, Copenhagen, Denmark, 1882
Mystic Seaport (Connecticut)
http://www.mysticseaport.org/index.cfm?fuseaction=home.viewpage&page_id=B3AF7031-E022-6432-8AE3F674FA3026CA

Moshulu, 4-masted steel bark
Alex. Hamilton & Co. Port Glasgow, Scotland, 1904
Now a restaurant (Philadelphia, Pennsylvania)
http://www.moshulu.com

Peking, 4-masted steel bark
Blohm & Voss, Hamburg, Germany, 1911
South Street Seaport (New York City)
http://www.southstreetseaportmuseum.org/category-s/1875.htm

Star of India (ex-Euterpe), 3-masted iron ship (now bark)
Ramsey Shipyard, Isle of Man, 1863

San Diego Maritime Museum (California)
http://www.sdmaritime.org/star-of-india/

Wavertree (ex-Southgate, ex-Toxteth), 3-masted iron ship
Oswald, Mordaunt & Co., Southampton, England, 1885
South Street Seaport (New York City)
http://www.southstreetseaportmuseum.org/category-s/1829.htm
If you have donables to spare, remember that these vessels live on voluntary contributions of money and time. Please support the care and restoration of whichever of these ships means the most to you. Help preserve these irreplaceable icons of maritime history. Thanks!
Among the modern-day "tall-ship" fleet, two of the world's sail-training vessels began life as real working Cape Horners: they are the Sedov (ex-Magdalene Vinnen), built in Kiel in 1921; and the Kruzenshtern (ex-Padua), built at Bremerhaven in 1926.